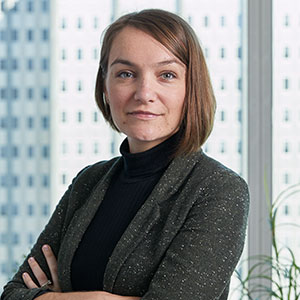 Anneliese Van Arsdale
Senior Consultant
A former actor, Anneliese Van Arsdale brings more than a decade of experience working as an arts administrator in Philadelphia's vibrant cultural sector to Fairmount Ventures. With experience ranging from front-of-house customer service to managing a multi-million dollar capital campaign for InterAct Theatre Company, Anneliese has played many behind-the-scenes roles in the nonprofit field.  At Fairmount, she leans on her frontlines experience to inform her understanding of the day-to-day challenges her clients face as they pursue strategic goals, embark on big projects, and seek financial sustainability.
As a Project Manager, Anneliese's work touches on all facets of resource development, from grant-writing to capital campaign management. With expertise in individual giving, board development, and relationship-based fundraising, Anneliese serves clients by quickly acclimating to organizational culture, developing written materials that align with clients' voices, and providing the necessary organizational support and facilitation to advance projects to meet their goals. Annelise often calls on her theater training when tackling operational challenges and parsing the nuance of organizational dynamics.
Anneliese started her career as a Professional Apprentice at the Arden Theatre Company in 2005. Later, as Development Manager at FringeArts she oversaw significant growth in contributed revenue, while also cultivating and expanding the Festival's circle of major donors.   Prior to joining Fairmount, Anneliese served as Managing Director at InterAct Theatre Company where she led a major fundraising endeavor and organizational transformation to build a new performance venue and home for the theatre.
Education:
Bachelor of Arts, Dance and Drama, Kenyon College
Volunteer Service:
University City Arts League, Board Member (former)
Applied Mechanics, Board Member (former)
Professional Experience:
Managing Director, InterAct Theatre Company
Development Manager, FringeArts
Development Associate, FringeArts
"In the nonprofit sector – as in theater – it is critical to have a well-rehearsed script, as well as to have the improvisational skills to manage the unexpected."