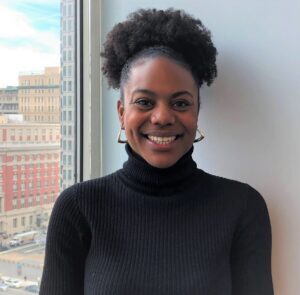 Chelsea Hicks
Project Manager
Chelsea Hicks leverages her unique experiences as a former investment analyst and higher ed administrator to seek ways organizations can maximize efficiencies while striving for equitable outcomes. At Fairmount, Chelsea supports clients to realize their strategic goals by developing roadmaps grounded by an organization's culture.
Chelsea has extensive experience in translating big ideas into actionable projects which she has done through multi-stakeholder program ideation and management, implementation of foundation-funded projects, executive search support, and executive communications. She excels at organizing people to achieve a shared vision, and understands how a process is going is just as important as what a process is attempting to achieve.
Chelsea is often referred to as a curious, upbeat person. She most enjoys when a tough challenge presents itself as an opportunity, and believes a process is best when there are a few laughs along the way. Originally from Harleysville, PA, Chelsea previously worked at her alma mater, Swarthmore College, where she served as a special assistant to the President. She began her career at Swarthmore in the Investment Office supporting the $2.0 billion endowment fund.
Education:
Bachelor of Arts, Major in Economics, Minor in Philosophy, Swarthmore College
Volunteer Service:
Impact100, Founders Fellow, DEI Committee Member
Philadelphia Black Giving Circle, Steering Committee Member
Swarthmore Black Alumni Network, Volunteer
Professional Experience:
Special Assistant for Presidential Initiatives, Swarthmore College
Investment Analyst, Swarthmore College
"A commitment to equity is fundamental to strategic success."