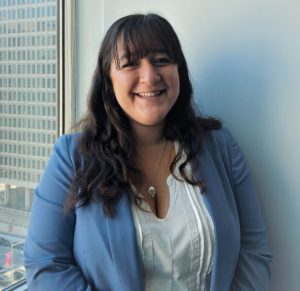 Jennifer Rubin
Associate
Combining her passion for social justice and her experience in community development, Jenny Rubin envisions a future of thriving, sustainable, and equitable communities. Jenny supports her vision by using her community-centered lens, her experiences at a diverse range of organizations, and her background in administrative and behind-the-scenes planning to secure necessary resources for Fairmount's clients working on-the-ground and across the region.
Passion for the community lies at the root of Jenny's work and drew her to earn her M.A. in Community Development and Planning at Clark University. While working at a volunteer-based farm that donates all of its produce to combat food insecurity, she oversaw the volunteer program and wrote grants to benefit its farming and nutrition education initiatives. In graduate school, Jenny served as a consultant for AIDS Project Worcester, one of the nation's oldest AIDS Service Organizations, working with a team to provide a comprehensive report on the agency's fundraising methods and recommendations for a new and more sustainable development strategy.
Born and raised in Baltimore, Jenny sought new perspectives and ideas, and moved to New England. After five years completing her Bachelors and Masters degrees, Jenny felt a call to return to her home region of the Mid-Atlantic, to Philadelphia, where she had always dreamed of living. Jenny is driven to bring her professional expertise to the region to assist those in the community, while also learning more about this great city through working with her clients.
Education:
Bachelor of the Arts in International Development and Social Change, Clark University
Master of Arts in Community Development and Planning, Clark University
Volunteer Service:
Reading Terminal Market Preservation Fund, Board Member
Finance and Fundraising Consultant, AIDS Project Worcester
Professional Experience:
Volunteer Program Assistant, Community Harvest Project
Community Engagement Assistant, Clark University
"Communities work best when every member is empowered to grow and to reach their full potential. At Fairmount, I help guide clients in achieving their promise every day."