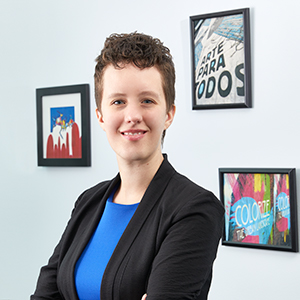 Katie Muller
Vice President
Katie Muller has spent more than a decade supporting nonprofit organizations in the US and abroad. Guided by her background in international development, Katie is able to quickly assess and adapt to new organizational cultures, build trusting relationships across diverse communities, and draw from a broad range of approaches for the benefit of Fairmount clients.
For Katie, mission is at the heart of Fairmount's work. Whether in the context of strategic planning or resource development, Katie skillfully facilitates discussions with clients that connect their core missions to strategy, program design, and funding streams. She is known for creating clear processes that enable clients to move from daunting challenges and loosely defined questions to concrete action plans. Her work in Philadelphia spans sectors, ranging from workforce development to social services and community health.
Katie's commitment to Philadelphia nonprofits extends beyond her clients at Fairmount. She provides strategic insight and volunteer support to several local organizations, with a focus on those that promote diversity and cross-cultural understanding. Prior to Fairmount, Katie managed projects in Latin America and Southeast Asia.
Education
Master of International Development, University of Pittsburgh
Bachelor of Applied Arts, Central Michigan University
Volunteer Service
Nationalities Service Center, Board Member
Philadelphia Area Peace Corps Association, Board President
Impact100 Philadelphia, Founders Fellow and Member
Cambodian Association of Greater Philadelphia, Volunteer (Former)
Professional Experience
Technical Trainer and Community Health Educator, Peace Corps Cambodia
International Program Coordinator, Foundation for Sustainable Development Argentina
Project Coordinator, Student Philanthropy Project at the University of Pittsburgh
"Solutions to social challenges need to be grounded in the context where they happen. People who experience these challenges often have the best ideas. Our role is to ask questions, connect them with resources and partners, and amplify their voices."