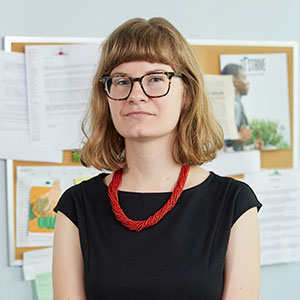 Lauren Zimmerman
Project Manager
Effectively messaging a nonprofit is critical to its brand. Lauren Zimmerman starts the process by listening to her clients, then draws on her deep knowledge of language construction – including Turkish, Kazakh, Portuguese and French – to craft the compelling idea. In her role at Fairmount, Lauren lends her expertise in writing, marketing, and strategic planning to address client issues and identify impactful solutions.
Lauren enjoys exploring the complex and intricate layers of a new client's intended goals and committing her energy to seeing a project blossom, particularly when its impact is local. At Fairmount, Lauren's work has focused on the role of higher education institutions in community development, early learning, and the transformation of public spaces. One of the most fascinating parts of her work is the process of meeting community and institution leaders and learning the unique history of specific neighborhoods.
Originally from Tennessee, Lauren previously worked with the Metropolitan Government of Nashville and Davidson County to grow an adult education program, in support of Nashville Public Schools' community schools model.
Education:
Bachelor of Arts, Linguistics, Boston University
Professional Experience:
Communications Coordinator, Community Education Department, Metropolitan Nashville/Davidson County
"I love listening to the specific words that people use to describe their organizations and visions. In fundraising, this is especially important because word choice informs you of a client's passions and priorities."