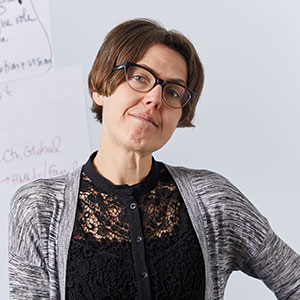 Nicole Meyenberg
Vice President
Nicole Meyenberg is a thinker, planner, and do-er who helps nonprofits of all sizes, service delivery models, and issue areas get what they need to sustain and grow their work.
Long before Nicole knew consulting with nonprofits was a viable career, she characterized herself as an "activist guidance counselor" because acquaintances so frequently asked for her help solving an organizational challenge, thinking through a new program, or writing a grant proposal.
Today, as a partner and co-lead of the company's resource development practice, Nicole applies the knowledge and skill she's built over the past 20 years to helping clients determine how to fund their big idea, secure multi-million dollar government grants, and launch capital campaign committees, amongst many other fundraising related projects. The planning and implementation support she provides to Fairmount's clients have helped them do everything from improve children's literacy in school districts across the nation to develop a nature education center on Philadelphia park land.
After more than a decade with Fairmount, Nicole still gets a thrill from getting to know new clients, writing in the distinct voices of members of their capital campaign committees, and facilitating a program design meeting – the messier, the better.
Education:
Bachelors of Arts, Political Science and Religious Studies, The Pennsylvania State University
Master of Arts, Religious Studies, Temple University
Master of Education, Urban Education, Temple University
Volunteer Service:
Books Through Bars, Board Member (former)
Professional Experience:
Managing Director, New City Community Press
"The nature of Fairmount's collaborative, solutions-oriented work means each week I know more than I did the week before. Each new client benefits from everything I've learned from those that came before it."