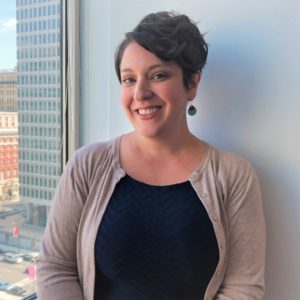 Rae Pagliarulo
Consultant
As a Philadelphia native, Rae Pagliarulo brings her passion for the city and its people to her work every day. Rae focuses her appetite for collaboration and interpersonal dynamics to leverage the relationship between levity, empathy, and the essential, nuanced work of resource development. As a published writer and an editor for an online magazine, Rae infuses a love of language and a talent for brevity in myriad organizational communications, lending a careful eye to the prose and storytelling that strengthen and define any effective campaign.
Rae has also served on multiple grant review panels, providing her with insight on the institutional funding process from all sides. Throughout her career, she has developed a keen understanding of how strategic program design and thoughtful fundraising work in tandem, and believes that what nonprofits do is just as important as how they do it.
Rae's career in the nonprofit sector started in 2009 with Philabundance, where she learned about individual donor cultivation and strategic communications through the lens of food security. Later, at Career Wardrobe, a regional workforce development agency, she strengthened and grew the organization's corporate clothing donation and volunteer programs, as well as planned and executed annual fundraising events. Prior to joining Fairmount, Rae served as Development Director at ArtWell, a youth arts education nonprofit, where she streamlined grant efforts with a focus on sustainable, flexible funding and campaign-based resource development.
Education:
Bachelor of Arts, Liberal Arts, West Chester University
Master of Fine Arts, Creative Writing, Rosemont College
Professional Experience:
Executive Assistant/Development Coordinator, Philabundance
Development Manager, Career Wardrobe
Development Director, ArtWell
"The work we do is just as meaningful as the way we work. Efficiency, empathy, humility, and excellence must accompany the decisions we make in every interaction. It's harder to be intentional, but it's worth the effort."