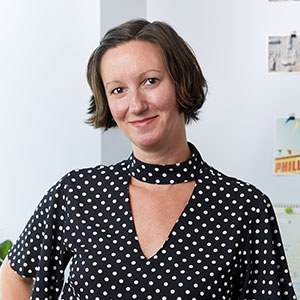 Aimée Miller
Senior Vice President & Partner
A former features journalist and music critic, Aimée Miller always has an ear tuned to adopting a nonprofit's exact voice, interpreting how it can be positioned to thrive, and translating its strengths into a language that harmonizes with potential funders, donors, and other stakeholders. At Fairmount, she leverages her more than 20 years of experience in resource development strategy and planning, program design, and annual and campaign fundraising to benefit a diverse mix of arts, civic, environmental, education, health, and human service organizations.
As a lead in Fairmount's resource development practice, Aimée advises on and directs complex grant applications and donor solicitations, resulting in tens of millions of dollars to help her clients expand services or build a new asset. When working with a new client, Aimée draws inspiration both from what it has already accomplished and its dreams for the future – interpreting its assets, outcomes, and aspirations for current and new audiences in order to create impactful change and secure new resources towards its mission. Her expertise as a writer and strategist provides clients fresh insights on how a nonprofit can translate its vision and goals most effectively to stakeholders that want to invest in social good.
Aimée is a seasoned presenter on organizational fundraising culture, donor strategies, and Board and volunteer engagement for professional associations and networks across the region. She brings a deep set of connections to local creative communities through more than a decade of volunteer leadership in arts education and her previous work in media.
Education:
Bachelor of Arts, Annenberg School for Communication, University of Pennsylvania
Volunteer Service
Girls Rock Philly, Collaborative Co-Founder, Program Volunteer, Board Member (former)
HELP Philadelphia, Advisory Committee (former)
Philadelphia Cultural Fund, Peer Reviewer (former)
Professional Experience:
Freelance news, features, and arts journalist
Staff writer, The Washington Post
Assistant, Programming and News/Public Affairs, WXPN-FM
"Philadelphia abounds with creative, get-it-done visionaries working to spark change in their communities. My greatest satisfaction comes from matching vision with resources to make it possible."