Fairmount recently shared our three steps to capital campaign readiness that are essential to any organization planning for this marathon fundraising journey: 1) a compelling vision, 2) ready leadership, and 3) ardent supporters. There are simple, yet impactful, things you can do now in each of these areas to get ready for launch. Focus on answering these three questions and your capital campaign plan is underway: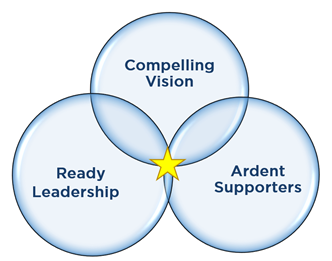 Can you describe the "so what?" of your work in a way that makes clear to an external person why it should matter to them? Remember that people give to the organizations that are making the kind of change they want to see in the world (and that they can't achieve on their own). With that in mind, what are you trying to achieve? Use data, storytelling, and compelling imagery in your campaign messaging that describes how everything you do fits together to get you closer to achieving that goal, and why it matters to society.


Do you have influential friends who are not on your board that you could ask to champion a campaign in the broader community? Important criteria for generating this list include people who hold some degree of influence on your prospective donor communities, who themselves have means to give attention-getting early gifts, and – vitally – who are within one or two degrees of separation to your leadership. Map out your plan to get to know and cultivate potential members, considering whose help you need to get to them, and even the right way to approach that "helper". Envision the steps you can take over the next year to engage, build loyalty, and make it likely that these influential people would say yes if you asked them to be on a campaign committee.


Have you already qualified your lead donor prospects, and do you use a written moves management plan to cultivate them? Start by pulling the top 10% of your donor list. What do you know about their giving history to your organization – is it growing? What do you know about their giving history to others – do they give to other organizations more than they give to yours? Identify the steps you'll take over the next year to learn more about these people and their giving priorities, and to help them become more emotionally invested in your organization.
When you have a good sense of your campaign vision, your best committee prospects, and your likely lead donors, you'll be in a much better position to answer the all-important question: can you raise the amount of money you need in the timeframe you'll need it?
Contact us today to discuss your campaign's readiness and feasibility assessment needs, and we'll share Fairmount's Journey to Campaign Readiness infographic so that you can start to map out where your nonprofit's big dreams can find big money.